If you are looking for professional workmanship and customer service, then you have come to the right place. You can expect on-time and professional service from our highly skilled and fully trained electrical team. We stay up to date on the newest technology so that we can offer our customers the best solutions for their electrical needs. Our #1 company goal is to make all of our customers glad they chose Wired Energy Electrical Contractor LLC.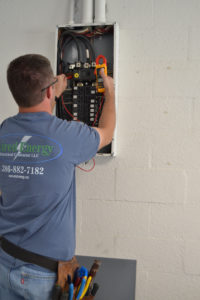 Residential, Commercial, & Industrial Services to include but not limited to:
New construction
Additions / Extensions
Renovations / Remodels
Service Panel Upgrades
Sub Panel Installation
Additional Circuits, Outlets, Receptacles
GFCI Repair and Replacement
Wiring services to include but not limited to:
Surge Suppression for Whole House or Localized Area
Hot Tubs and Jacuzzis
Pools – Pumps, Timers, and Lights
Boat Docks
Generator Installation
Well and Irrigation Pumps and Timers
Specialties to include but not limited to:
Restaurant ANSUL Hood Systems
Cable and Satellite TV
Telephone and Networks
Not finding what you want? Reach out directly through our Contact Us page.
Our residential electrical service calls include everything from troubleshooting, installation or replacement, to complex remodeling and lighting projects.
Let Wired Energy help you with all your electrical service needs no matter how big or small.